Guess who went to the Kent concert Saturday night?
Guess who had a freaking incomparable awesome time?
Guess who screamed like a little hyper fangirl?
Guess who got to stand way up close to the scene?
Guess who caught Kent's drumstick?!?!?!
Yes... MEEEEEEEEEEEEEEEEEEEEEEEEEEEEEEEEE!!!!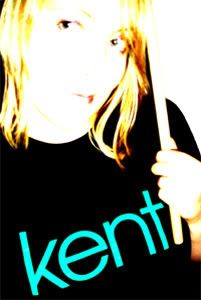 Oh yeah, and I bought a T-shirt! x3
I tell you, it's the most beautiful thing in the world!
I will worship this thing and create an altar!
And the concert was....
ultimate!!!
The band had to come up on the stage two times extra, because the crowd was just... fanatic (including moi of course)! And I almost died, because they
did
play 'Revolt III'!! And their very last song was 'Mannen I den Vita Hatten'! God, it was so fucking amazing! People were actually fainting! And the light show they had, it was breathtaking! I can't go back to listening to their songs on my computer, because I will only start to cry remembering how good they were live! And when they were finished, they threw out
one
of their two drumsticks! I had to fight for it, people were trying to twist it out of my hands!
I freaking caught... the... drumstiiiiiick!!!!!!!
Boy, did I get a lot of envious looks!! Hahahahaha!!